sarah jaffe
I moved to the Denton, Texas area about four years ago and was quickly introduced to the local music scene that thrived in Dallas and Fort Worth's little neighbor to the north.  Fueled by two universities with a strong musical reputation, Denton is known for mint musicianship combined with genre-pushing experimentation.  Immediately upon infiltrating the local music scene, I kept hearing Sarah Jaffe's name pop up in conversation.  My first time catching her show a couple years ago had me pretty floored both by her engaging songwriting and a fanbase that was singing along to every tune off her debut EP.  During that show, she was primarily previewing songs from Suburban Nature, a disc that gained the upmost acclaim upon its 2011 release especially in the DFW area.
By the time SXSW rolled around last year, I had added a couple more Jaffe gigs to my show-going resume and primarily caught her showcase at the Paste Party to share her sound with my show-going buddy.  I was also intrigued by some surprising new songs Jaffe tried out at Denton's 35 Conferette a week before.  This year marked a pretty dramatic change in direction for Jaffe.  Gone were the minimalist acoustic tones that defined Suburban Nature, being markedly replaced by both light and heavy electronic instrumentation.  Jaffe was in the midst of evolving as an artist around SXSW, so she was an easy pick to recruit for our "12" project.  I was also a little biased due to local coverage, as Jaffe has risen from a pretty big deal to a marquee act in Denton area, but I've been especially impressed how she's gained a foothold in the national sphere as well. 
The build up to The Way Sound Leaves a Room, an EP meant as bridge between Suburban Nature and her sophomore release due next year, has yielded some highlight coverage throughout the online community.  Anchored by covers of Drake & The-Dream and Cold War Kids, Jaffe has joined in with a talented crew of indie-based female singer-songwriters pushing the limits of what was once a genre reserved for more straight-ahead fare.  I would best describe 2011 as a transition year for Jaffe.  She got some good touring in both with supporting tours with Old 97s and Centro-matic as well as headlining gigs in the DFW area, but most of her time was spent preparing for her next album and going through everyday life.  She's actually turned the promotional machine down a couple notches, going for more of a grassroots approach of gaining a fanbase.  I'm hoping next year provides more extensive national touring from Jaffe given how much she has been able to grow locally throughout repeated live appearances.
It's been great following Jaffe's musical maturation throughout the last six months, but I have a feeling 2012 will be her breakout year.  Her songwriting has improved drastically from an already impressive base.  The album she has been recording with John Congleton in recent months is setting up to be a real knockout based on the EP and live previews.  I'm sure I'll continue to see Jaffe more than any other of "The 12" artists; it's hard to say "no" anytime she's within an hour drive, which happens every couple of months.  From interviews, I get the impression that Jaffe is just starting to realize how good she really is.  That confidence should translate next year as she pushes herself further into the music community based on the strength of her songwriting and emotionally moving delivery.
10/15/11 – DOMA Showcase Concert – Deep Ellum, TX (courtesy of DC9 at Night)
Though Jaffe wasn't "on tour" by any means throughout October, but she did show up on a few stages by participating in the Dallas Observer Music Awards Showcase and New York City's CMJ Music Marathon & Film Festival.  The DOMA show in Deep Ellum matched Jaffe with three fellow local music heroes, Centro-matic, Old 97's and The Toadies, on the main stage while nearly a hundred local acts filled the clubs surrounding the outdoor venue.  The hometown crowd "responded to the singer with wild adulation" according to DC9 at Night and Jaffe even threw a curveball at the crowd by covering The Supremes' "You Just Keep Me Hangin' On".  Three days later, the Dallas Observer held their official award ceremony, where Jaffe was named Best Solo Artist, Best Folk Artist and Best Female Vocalist all for the fourth year running.  The following weekend, Jaffe travelled to NYC for a set of three performances at CMJ both with a full band and solo acoustic.  Though our tour coverage wrapped up in October, Jaffe has a few shows left to round out the year including an opening set for Rhett Miller at Dallas' Granada Theater next week.
When You Rest – 8/19/11 – Kessler Theater – Dallas, TX
Sarah Jaffe : The Way Sound Leaves A Room from Kirtland Records on Vimeo.
The Way Sound Leaves a Room (Official Video)
About two weeks ago, we shared a stream of Sarah Jaffe's new EP The Way Sound Leaves a Room that features a mix of demos and covers, serving as a bridge between Suburban Nature and Jaffe's upcoming sophomore release.  While we're featuring coverage surrounding the release, Jaffe already has her sights set on the next destination.  A week before the EP's release, Jaffe entered a Dallas studio with producer John Congleton to begin work on here second LP.
Touring Through Texas
On the day before the EP/DVD's official release date, Sarah Jaffe and Robert Gomez performed a short afternoon set at Dallas' Good Records.  That weekend, she reunited with Centro-matic's Will Johnson for three acoustic duo shows in Waxahachie, Austin and Sealy as well as a recording session together for Daytrotter.  Jaffe closed off the promotional run with a short acoustic set at Denton's Dan Silverleaf that was accompanied by a screening of the DVD (a performance at the Wyly Theater from back in February).
Shut It Down (Drake & The-Dream) – 9/26/11 – Good Records – Dallas, TX
Come Thou Fount (trad.) – 9/30/11 – Cactus Café – Austin, TX
Thanks Paste!
1. Shut It Down (Drake cover)
2. Louder Than Ever (Cold War Kids)
3. Clementine (Alternate Version)
4. Better Than Nothing (Outro)
5. The Way Sound Leaves a Room
6. When You Rest
7. A Sucker For Your Marketing
8. All This Time
8/19/11 – Kessler Theater – Dallas, TX (courtesy of Brian Hamm)
After her back-to-back supporting tours for Old 97's and Centro-matic in June and July, Jaffe has maintained a pretty light touring schedule.  However, she did fit in two headlining gigs last month in markets where she is known to draw a crowd.  The first stop was a mid-month appearance at Dallas' Kessler Theater.  Completely sold out by the afternoon of the show, Jaffe delivered a powerful set to a highly engaged audience of her most dedicated fans, including the Operation Every Band crew.  It was great to see some deeper cuts since she's been relegated to eight-song opening sets since her last proper headlining show four months ago.  A patient performance of "Two Intangibles Can't Be Had" quieted the crowd while the show-closing "Perfect Plan" made its case as a potential cornerstone within Jaffe's growing canon.  She even tried to break out the rare "Pretender Pt. 1" to lead into the proper song, but charmingly had to reach out to the crowd for some vocal cues as she dug into her mental vault to remember the lyrics.  The crowd of friends and fans were glowing following the show along with Jaffe herself; she spoke out in appreciation at least five times throughout the evening.
The only other show of the month was a return performance to Louisville's Waterfront Wednesday series on the 31st.  WFPK tried to pull this show off last spring, but weather forced the concert indoors at the last minute.  This time the show went off as intended to her growing Louisville base.  Jaffe was supported by Katie Herzig and Ha Ha Tonka, creating a nice mix of singer-songwriter fare and indie rock, two angles that melded together when Jaffe's band hit the stage.  With the release of The Way Sound Leaves a Room in about ten days, Jaffe has booked a few interesting shows in the weeks surrounding.  She'll first hit up Good Records for an in-store that Monday followed by a three show Texas run playing solo acoustic alongside Centro-matic's Will Johnson.  She'll then continue into October with a film screening and short acoustic performance in her hometown of Denton and a showcase concert for the Dallas Observer Music Awards with friends Old 97's, Centro-matic and local heroes The Toadies.
OEB Video Diary:
All That Time → Clementine - 8/19/11 – Kessler Theater – Dallas, TX
Even Born Again - 8/19/11 – Kessler Theater – Dallas, TX
Two Intangibles Can't Be Had - 8/19/11 – Kessler Theater – Dallas, TX
Before You Go – 8/31/11 – WFPK Waterfront Wednesday – Louisville, KY
Zoinks Online just shared some more info on Jaffe's upcoming release The Way Sound Leaves a Room.  First, here is the possibly complete track list for the EP:
Clementine (acoustic)
Better Than Nothing Outro
The Way Sound Leaves a Room
When You Rest
A Sucker For Your Marketing
All That Time
Shut It Down (Drake and The Dream cover)
Louder Than Ever (Cold War Kids cover)
The article shares a couple of other gems as well.  The EP, coupled with a DVD performance of the Wyly Theatre show, is described as a "collection of demos" that is meant to lead into Jaffe's next studio album, due early next year.  It also announced that Jaffe will be performing at this year's CMJ Festival, with further details to come.
As of this morning, two of the top three sessions on Daytrotter are held down by artists we're following as part of "The 12".  The Civil Wars and James Vincent McMorrow's sets were both added to the site in the last two weeks and have been popular downloads ever since.  The takes are intimate and raw from both acts, a trend among bands that record in Sean Moeller's Rock Island, Illinois barn/studio.  The sets feature some nice unreleased tracks as well, capturing The Civil Wars' "Disarm" cover and "Oh Henry" as well as McMorrow B-Sides "Red Dust" and "We Are Ghosts".  Daytrotter has recorded hundreds of sessions over the last five years, now posting at least one new session everyday.  The site's focus on new and unique musical content to the online listening landscape has set the benchmark for any new music blog or service.  Not only that, but they also provide a great forum for independent artists to display their songs to a wider international audience.  To prove their reach, Daytrotter has recorded sessions with an astonishing nine of the artists in "The 12", from hip hop artist Dessa to the fuzz-rockers Yuck to the orchestral folk of Lost in the Trees.  We've compiled all of "The 12" Daytrotter sessions below (see more by click on the "Read More" button), which are freely downloadable directly from Daytrotter's website.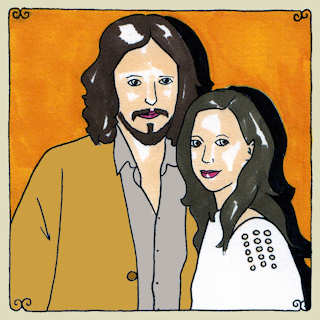 Birds of a Feather, Disarm (Smashing Pumpkins), C'est La Mort, Oh Henry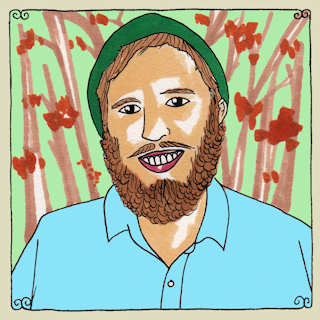 8/1/11 – James Vincent McMorrow
This Old Dark Machine, Follow You Down to the Red Oak Tree, Red Dust, We Are Ghosts